Monodrain
General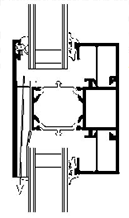 The MONODRAIN is an exceedingly simple solution, with which an integrated (i.e. invisible) subdrainage is used for standard small profiles.

After having fixed a hole through and through the rabbet, a specially shaped synthetic drainage-pipe, i.e. the MONODRAIN, is then placed in this opening. The drainage/ventilation is realized by means of this very pipe, which in the end is tightened between the inner side of the aluminium profile and the pane.

Our solution, in fact "revolutionary" because of its simplicity, has been developed in close cooperation with DSM Research/DADC, Syntens and LIOF. Naturally SKG (Stichting Kwaliteit Gevelbouw) has tested the MONODRAIN.
Easy to assemble
In the window rabbet a hole is made with a bore-fraise (Ø 9,5mm) all the way through. This processing takes place from the underside of the profile and then upward. And by doing this a part of the profile flange (in which the glazing rubber is being fixed) is also being processed to the required specifications.


The MONODRAIN is manually directed from above through several holes and, after having passed the last hole, is then pulled through the bottom side until it has reached the stopper.


Subsequently our MONODRAIN will be shortened at the underside at any requested length with a knife or scissors


At last, after having assembled the window into the construction and after having installed the pane of glass, the MONODRAIN will be permanently clasped between the aluminium profile and the pane of glass.